The perfect place to say 'I do'
There's no better place to celebrate your wedding than in one of Melbourne's most exclusive and naturally stunning heritage venues.
Download Wedding Package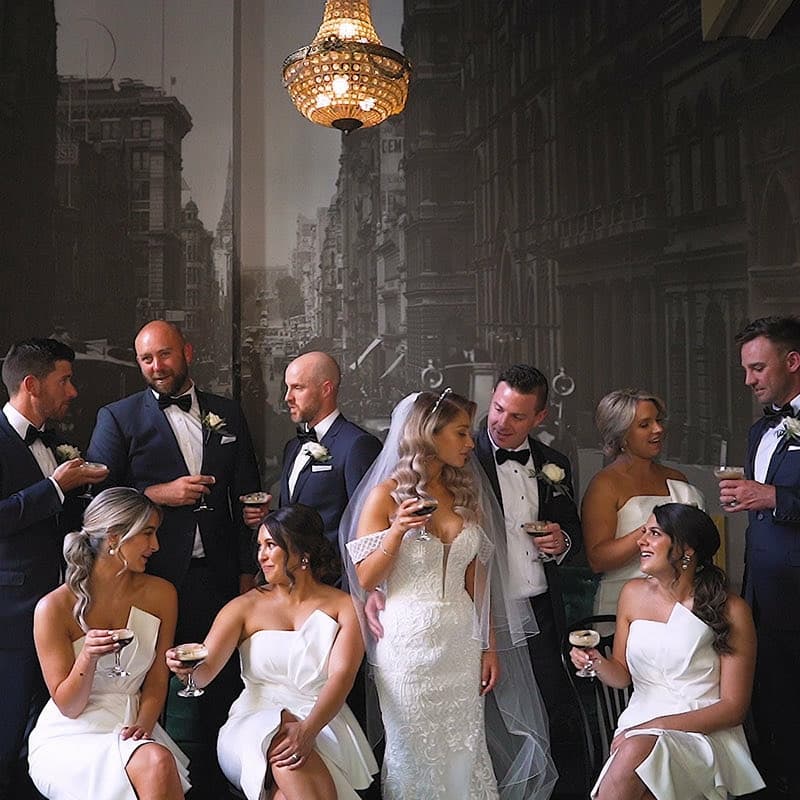 Melbourne's Historical Wedding Venue
A wedding at The Bank on Collins is truly memorable for its location, the exquisite heritage building and the culinary experience.
This iconic Melbourne building was built in 1876 from New Zealand Omaru stone with ornate metal balustrades. Originally home to The Bank of Australasia, the site is now heritage listed with its architectural aesthetic, second to none of the old world era. The Bank has a rich history and luxururious finishings and boy, is it worth a look if heritage in every sense of the word, is your vibe!
Right in the heart of Melbournes city centre, The Bank on Collins provides a setting that is unmatched in history, grandeur and ambience. With its elaborate heritage detailing, The Bank on Collins is the ideal venue for your wedding.
Cocktail | 300 guests
Seated | 90 guests
Dreaming of a beautiful wedding? The Bank on Collins has much to offer with high ceilings and dramatic arched windows overlooking Melbourne City. The large chandeliers bring a beautiful warmth and touch of glamour to the venue, which is just waiting to host an elegant wedding celebration.
WHAT MAKES THE BANK ON COLLINS THE BEST VENUE FOR YOUR WEDDING?
The Bank on Collins is an idyllic indoor wedding venue in Melbourne offering a grand entrance opening up to high ceilings with graceful and ornate heritage detailing. The striking interiors have rich history and luxury finishing's creating endless photography opportunities onsite and Melbourne's surrounding streets.
If you're searching for a venue with elegance and charm that will leave your guests with a memorable experience, The Bank on Collins is the best venue for you.
DOES THE BANK ON COLLINS OFFER AFFORDABLE WEDDING OPTIONS?
Our Functions Manager is dedicated to creating the wedding of your dreams. This is why we are able to provide various options whilst meeting realistic budget expectations designed to suit every bride and grooms taste and style.